Another common decorative surfacing material used in the lamination industry is natural wood veneer.
Veneers are available in a variety of wood species, both domestic and imported.
Composite panels, like particleboard and MDF, are the preferred substrate for veneers due to their superior surface qualities of being flat, smooth, uniform, dense and free of knots and grain patterns.
Their dimensional stability, strength properties and cost advantages further increase the advantages of using these substrates.
Veneers are typically sliced between 1/25″ to 1/50″ (1.0 mm to 0.51 mm) and are available plain or with a paper or fleece backer that has varying degrees of flexibility. The backers provide stability and strength to the veneer and minimize splintering, cracking and checking. Veneers can be overlaid with either heat-activated resins or cold pressed.

The main resin used in hot press systems is a urea-based adhesive due to its ability to make the panel more rigid, faster processing parameters and lower cost base. Another hot press resin system that is increasingly used is a soy-based resin. Cold press systems typically use polyvinyl acetates, casein and contact adhesives. These systems are used for smaller production quantities and may be less rigid than heat-activated resin systems.
Veneered composite panel constructions are used in many applications including high quality furniture, case goods, store fixtures and cabinetry. Some veneers are used for profile wrapping, typically
over MDF, for high-end millwork applications.
Find out what makes North American composite wood panels among the greenest building materials available.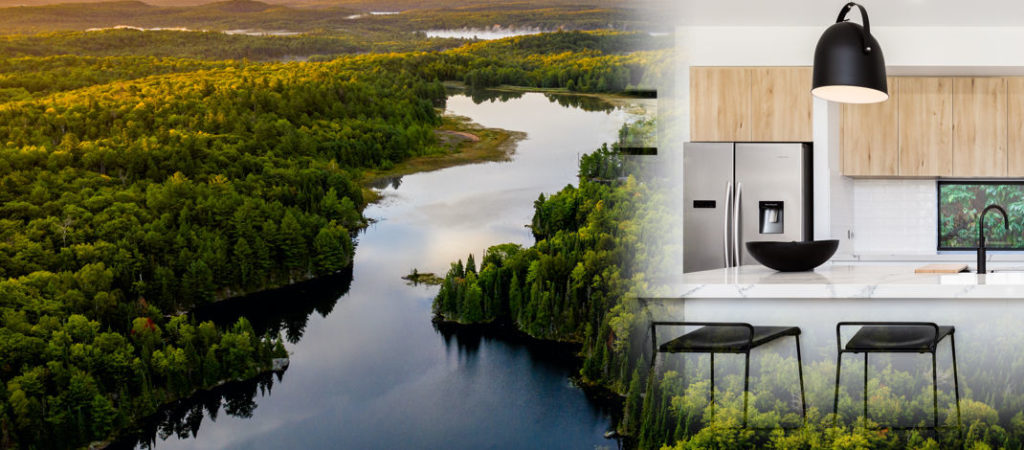 Find the Perfect
Decorative Surface
Find the Perfect
Decorative Surface
Browse our annual guide that provides the most comprehensive product information available about North American composite panel and decorative surfacing products, our use our product finder to locate a manufacturer that is perfect for your unique needs and applications.
Let us help you find a manufacturer that is perfect for your unique needs and applications.