Coatings are available as decorative color finishes or clear protective topcoats that enhance millwork and cabinetry. 
Another common decorative surfacing option is paint coating. With the advance of technology, coatings can now be applied to composite wood substrates in either liquid or powder forms. Paint can also be used in tandem with special inks, particularly in applications calling for printed wood grains or abstract patterns.
Aside from wood grain printing, coatings are available as a decorative color finish or as a clear protective topcoat. The surface characteristics of composite panel products, especially MDF, allow for direct coating and printing applications, which result in exceptionally consistent defect free finishes. While some industrial finishes are available on a retail basis, most coatings are custom formulated to fit the specific prefinisher's line configuration and the requirements of the intended end application.
Liquid Coatings Attributes
There are many types of liquid coatings used as industrial decorative surfaces. Coatings can be water- or solvent-based, and chemistry advancements continue to provide increases in performance of both types.
Water-based Acrylic Latex Coatings
These coatings are used in industrial, commercial and residential settings, and are formulated for both interior and exterior applications. Manufacturers can
modify these coatings with different types of resins and crosslinking agents to extend the service life and exterior durability of the coating system. These additives also improve the chemical, corrosion and water resistance properties.
One of the advantages of water-based coatings is their lower VOC content, which reduces their impact to indoor air quality. They are also superior to other coating types in their exterior durability and color retention, which is a function of the acrylic resins used in the formulation. However, these coatings do not perform as well as solvent-borne coatings in chemical and wear resistance.
The higher VOC nature of solvent-based coatings limits their use primarily to industrial settings that are equipped with specialized air handling and treatment devices. These coatings can be modified with urethanes, epoxies, nitrocellulose, alkyds and acrylics to impart certain performance qualities.
Solvent-based coating systems are widely recognized for their outstanding chemical- and wear-resistant properties. This family of coatings is used for high gloss finishes that have superior abrasion resistance. In addition, there is minimal grain raise and fiber swell with solvent based coatings, and the finish is easier to touch up and repair if damaged.
Ultra-Violet (UV) Coatings
The main difference with this coating type is how the coating is cured or dried. UV coatings have special ingredients that react almost instantaneously with UV radiation. This results in a significantly faster curing process. As a result, UV coatings are extremely tough, durable and long lasting. They are mainly formulated as clear coats and sealers.
Powder Coatings Attributes
The popularity of powder coating has continued to grow as an industrial finishing system. Initially developed as an alternative way to coat metal, the advantages of this evolving technology have made powder coating the fastest growing industrial finish for metal in the world. The powder coating process significantly reduces waste, with nearly 95% transfer efficiency and low-VOC emissions.
In the late 1990s, companies began experimenting with applying powder to wood products, particularly MDF. As MDF was a wood-based product and not prone to carrying electrical charges (critical for the electrostatic process), there were significant processing challenges to overcome. With the development of specially engineered MDF and powders, along with new processing techniques, these efforts were successful and a new way to finish composite panel products was launched.
Powder coating is an advanced method of applying a decorative and protective finish onto a wide range of materials and products that are used for both industrial and consumer applications. The powder used for the process is a mixture of finely ground particles of pigment and resin that is sprayed onto a surface to be coated. The charged particles adhere to the electrically-grounded surface until heated and cured, creating a variety of smooth and textured finishes that are uniform and durable. The coating process is a single-stage application where all exposed surfaces are coated simultaneously.
The benefits of powder coatings include increased design flexibility, cost efficiency and seamless edges.
Powder coatings also provide high resistance to heat, moisture, abrasion, staining and fading, and offer a range of colors, textures and finishes.
Both families of coatings are used in finishing cabinets and furniture, exterior siding, millwork, trim,
flooring and fixtures. A variety of coatings are utilized in all types of store fixtures and retail environments.
The toughness and performance properties of solvent-based coatings are among the reasons they are extensively used in the furniture and kitchen cabinet manufacturing business. Powder coatings are used on appliances, machinery, furniture and fixtures.
Find out what makes North American composite wood panels among the greenest building materials available.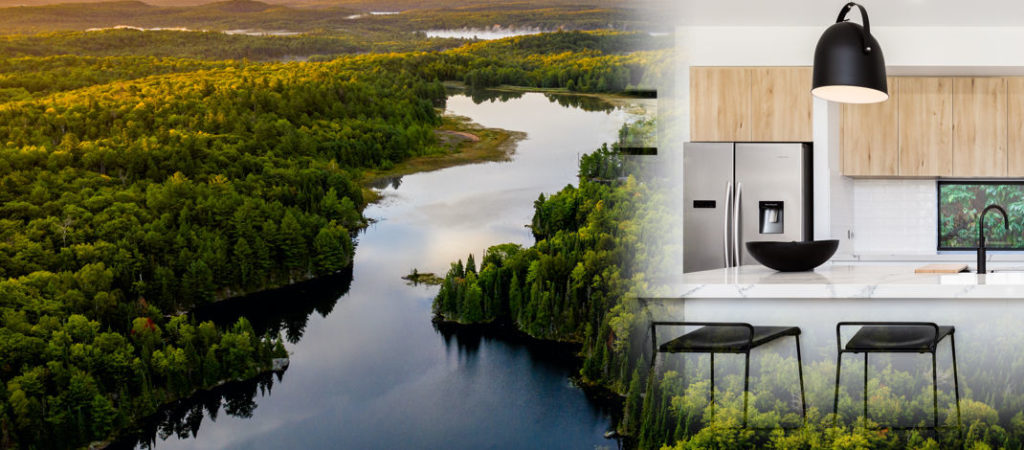 Find the Perfect
Decorative Surface
Find the Perfect
Decorative Surface
Browse our annual guide that provides the most comprehensive product information available about North American composite panel and decorative surfacing products, our use our product finder to locate a manufacturer that is perfect for your unique needs and applications.
Let us help you find a manufacturer that is perfect for your unique needs and applications.